Welcome to Ruby Lake Resort
We are a family-run resort located on the Sunshine Coast, British Columbia. Situated right on one of the warmest lakes in Canada, 'Ruby Lake' is nestled inbetween the Caren mountain range making our resort a paradise for nature lovers. We offer different style lagoon view cottages, and unique safari tents and wood cabins for those looking for the ulimate outdoor getaway. Come and relax by the lake, hike, partake in water sports & yoga, stargaze, eat farm to table authentic Italian cuisine at our onsite restaurant and enjoy the abundance of wildlife around! We also host weddings, food festivals, concerts and events at our outdoor amphitheatre. Ciao!
Upcoming Events...
October 6, 7 & 8 - Thanks giving Special
October 20, 21 & 22 - Mushroom Fest
October 28 - Culianary Team BC Fundraising event.
Check out our event page.


*Please note that our current office hours are 10am - 6pm. Calls outwith with time will not always be answered. Please email info@rubylakeresort.com
Chef Aldo & Paolo specialize in classic northern Italian cuisine. We are proud to serve free-range, grass-fed and humanely handled sustainable meat produce. Much of the produce used in our dishes is grown right here onsite! We are proudly farm-to-table. Working together for a better future.
Ruby Lake Resort is a peaceful paradise for you to relax and rest your soul, or just to have fun with your friends, couples, or family.
We are located on the Sunshine Coast in British Columbia, boasting a natural paradise that's only a short journey from Vancouver. Our 60 acre resort is surrounded by the Caren range mountains, so offers an oasis of outdoor activities including swimming in natural lakes, hiking, lakeside yoga, birdwatching at our wildlife lagoon, or relaxing at our private dock.
We offer cottages and a unique glamping experience in our glamping tents and wood cabins so you can integrate with nature from the comfort of your room. Our onsite farm grows vegetables and herbs for our authentic Italian restaurant where you can sit on our ambient patio to enjoy delicious food and watch beavers & otters playing in the lagoon.
We are the only resort situated on Ruby Lake, and we also back onto the sunshine coast trail. If you are looking for tranquility in your next getaway, book your stay at Ruby lake Resort.

Our Fabulous Italian Trattoria is open from 5pm - 9pm Mon Tue Thu Fri Sat Sun and is closed on Weds
*In Summer Seaon*
For shoulder months please check our hours on google or call us at 604 883 2269
Rich in heritage. Best in comfort
With the everlasting beauty that stood for many years comes a fine
resort to serve its name
serenity & beautiful nature
Book Your Stay
We offer accommodation services, dining, and multiple other activities for people that are open to exploring and enjoying nature. This makes this an ideal honeymoon retreat, a family vacation, rural weddings, and dinner parties.

The experience of a lifetime awaits you at Ruby Lake Resort.

Get away from the hustle and bustle of the city & venture into the wilderness.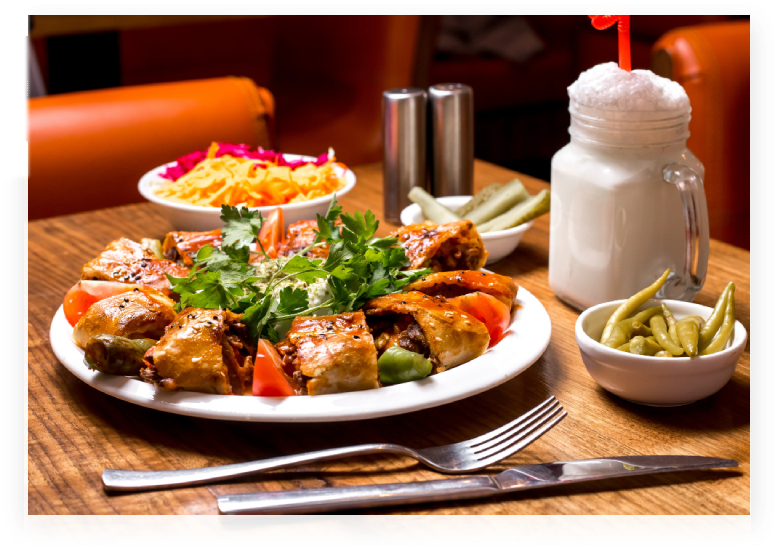 Chef Aldo specializes in classic northern Italian cuisine prepared with natural ingredients, including plenty of local produce as well as farm-to-table produce grown right on here site!
All of our cottages are duplexes, each of them unique and nestled in a wildlife sanctuary; home to painted turtles, beavers, otters, wood-ducks, geese, as well many other birds and animals.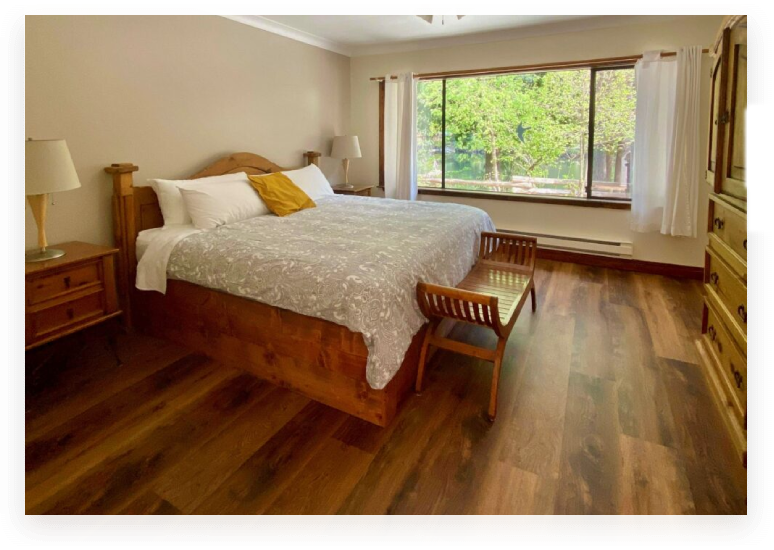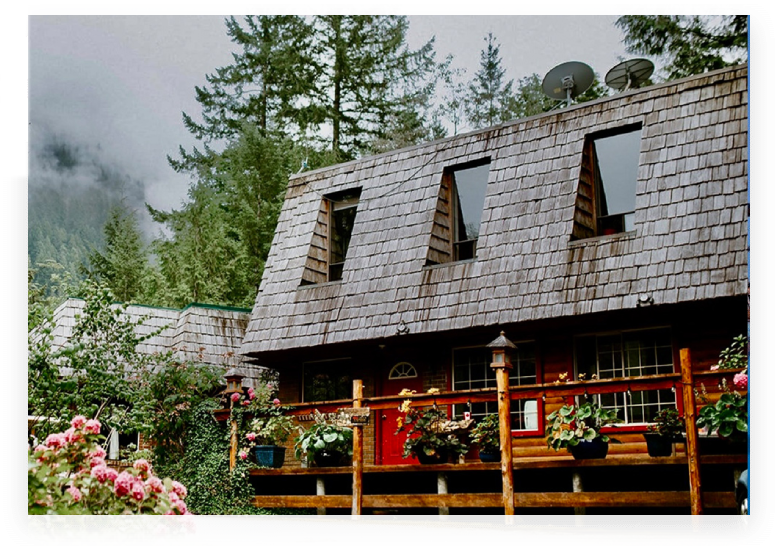 Our Deluxe Upper Cottage Suite is the largest and most luxurious of our cottages here at Ruby Lake Resort. This cottage suite is located on the upper floor of a building, overlooking the Ruby Lagoon and mountains behind.
The tiny wood cabins are all equipped with comfortable beds, including all linens and blankets, mosquito net, light, electricity, and either private covered balconies or sun decks, providing rustic but comfortable accommodations for a true back-to-nature wilderness getaway.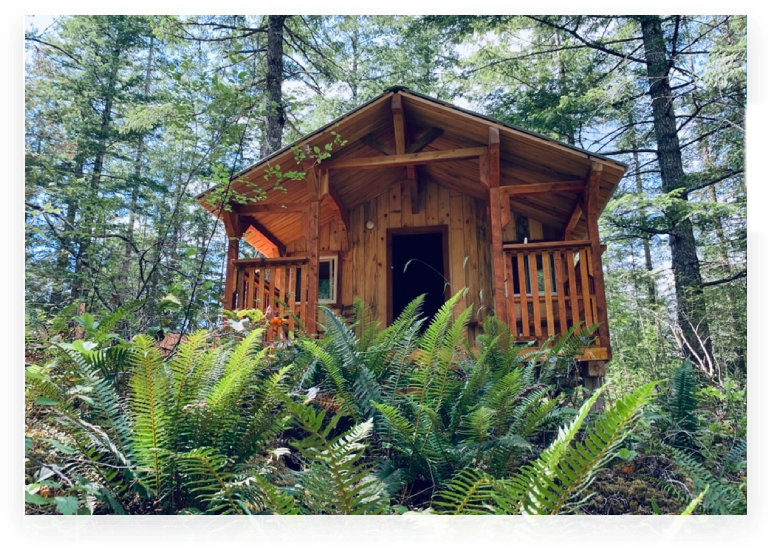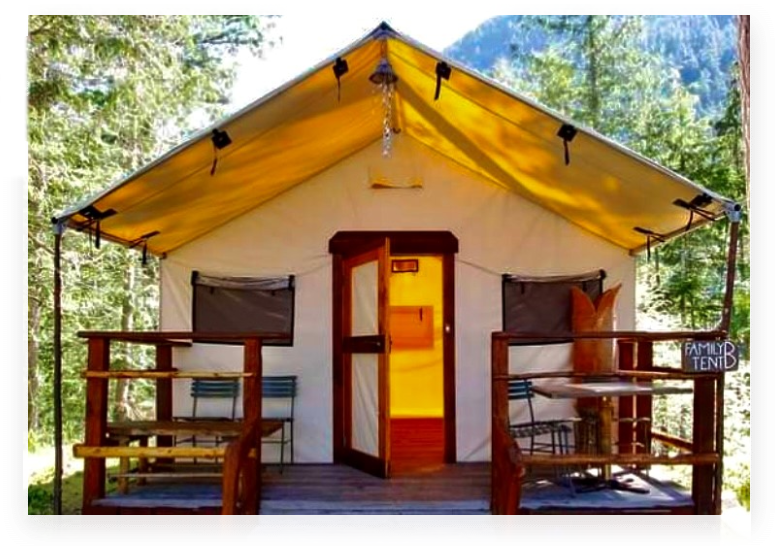 The Safari Tents are canvas tents on wooden platforms, all equipped with comfortable beds, power, and light, providing rustic but comfortable accommodations for a true back-to-nature wilderness getaway. This experience is very much like camping - but with a few added comforts!
"Really beautiful property with tons of natural beauty all around. We booked a tent but were contacted and upgraded to a cottage because of cold weather, which was a really nice treat. I loved all the birds and turtles on the lagoon so much! Forced me to slow down and I desperately needed that!"
"The cottage was on a lagoon teeming with bird life, so beautiful and peaceful. The restaurant was delicious and the hike recommended by the lovely Aberdonian that welcomed us was stunning."
"Over the moon about the locale,...We booked a tent with a gorgeous view. The lake, the lagoon, the animals, the woodsy landscaping, the air, the statues and structures. This place is a delight."
"We had our wedding here in August, and had the most amazing experience. Everyone who attended had a great time and loved the venue. It's such a beautiful location, and it was so great to have a range of affordable accommodation to meet everyone's needs."
"We really enjoyed the beautiful setting of Ruby lake resort. Crystal clear waters of the lake were great for a cooling swim. The glamping tents were clean and a relaxing quiet experience in the forest. The restaurant was great value and had fantastic Italian food, make a reservation before you arrive."
Book Your Stay In Ruby Lake Resort
Subscribe below to our Ruby Lake Resort Promotions and Ticketed Events Newsletter! Always get the latest news, events and insider deals from us!